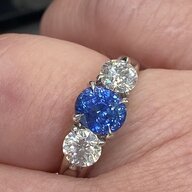 Joined

Feb 29, 2012
Messages

10,261
Hi, everyone.
I recently purchased a pair of baroque sea of Cortez pearl earrings from Cortezpearl.mx
Broqueles de Oro Amarillo de 18K con Perlas Mexicanas y Diamantes This is a stunningly beautiful and simple pair of Gem National Selection grade Cortez Pearl stud earrings set in rich 18K Yellow Gold. The workmanship is of the highest quality, thus belonging to our "Premium Cortez Line". Small...
I'm reacting to the earrings with earlobe itching and swelling. My guess is there is nickle alloy in the gold.
I have sent them an email asking if they know which alloy is mixed with the gold.
As you may have seen, I need two new knees with at least one hopefully happening next month. It's important I know, or figure out, best guess etc what is causing this reaction. Anyone who is allergic to nickel (which I know I am) can't have the rebotic minimally invasive surgery because the parts that go with the robot are cobolt, which is nickle.
Does anyone have a guess or opinion? Thank you.