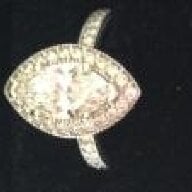 Joined

Jan 5, 2009
Messages

1,204
Hi there,

Not sure where to ask this, (please let me know if it should be in another forum) but I just got a quote for resizing a thin platinum semi-mount (2.5 mm band) and removing the diamond from one ring and setting into the platinum semi-mount and it seems high, would like some feedback if possible.

For resizing the platinum band, from a 5 to a 6 - is $150.00

To remove the diamond from one setting and resetting it into the platinum band is $170.00 - so $320.00 total? is this a decent price?

The prongs are all in good shape - may have to be tipped with the reset. I know platinum is more $ than gold - but this seems high to me. I have used this shop in the past as they do their work on site and I don't like having my things sent out for work.