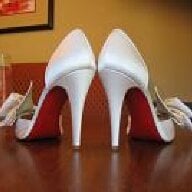 Joined

Nov 13, 2007
Messages

5,720
I have put this off long enough. I HAVE to send out invites in the next 3 weeks!!

I was searching google and came across a PS thread from a year ago, asking about proper etiquette RE: Outer and Inner envelope addressing.
Here is the link:
https://www.pricescope.com/community/threads/help-addressing-the-inner-envelope.80252/
My main question is with children and with SO's who are not married, and are not living together.
Children:
I read only to write the parents on the outer envelope and to add specific children's names on the inner. Is this correct?
EX.
Outer:
Mr. and Mrs John Doe
Inner:
Mr and Mrs. Doe
Master Rob Doe (under 12) or Mr. Rob Doe (over 13)
(and just for questions sake, how do you address more than one son, Misters?)
Then the SO's:
We have opted to put the dates name on the inner envelope of the "primary" friends invite. The only name on the outer envelope is the primary friend, EVEN if they are living together. FI's Usher was living with his GF of 6 years, and yes, they broke up. We had both of their names on the outer envelope of the STD, and now have no clue what to do. Technically they were both invited.
Also, for the serious ones that don't live together, if we sent a whole other invite to the SO of primary friend and they broke up, we wouldn't the SO showing up at the weddding and making primary friend uncomfortable, since technically the ex could come to the wedding because they got their own invite.
Has anyone else thought about this? I know, I know, I'm overanalyzing... but it's just things I try to avoid.