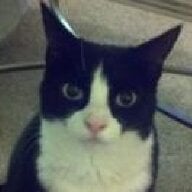 Joined

Aug 8, 2005
Messages

40,225
So as not to threadjack.

Well, what you talked about... being really good at finding out information, assimiliating it, etc. That is definitely a valueable skill and you are right, people are surprised by it and it does give me a nice feeling. My co-workers, my family and my friends are rely on me for it. But I often feel like I am the last line of defense against cataclysm.
I have trouble shutting off work mode, where I have to be hypersensitive to everything. I used to do a lot of in person negotiation, and now mostly do phone and email negotations. And I have to be very detail oriented to manage all the nuiances of the large projects because my job has strayed into a lot more than simple contract negotiation, (if it''s ever that simple). To plot, to plan, to think of contingencies, or things that might go wrong, to caution, etc.
It''s not the skill of it that bothers me, it''s the degree of immersion. I suspect a lot of it is my personality. When I use the word "hyper" I mean exactly that. It''s heightened and intense and it''s jolting. Like I said,
not normal
. And I think for my personality the ''chicken little'' mindset (which I think is more accurate) being forced on me in lawschool in a ''shock'' rather than as something I gradually developed as a result of a matured perspective has made my life much more complicated that it ever needed to be. It''s the bleed into all things ''non-work'' that traps me. If it was something I could turn off it would be one thing. But I haven''t perfected that switch yet, though hopefully it will come with time.
So I guess what I am saying is: It seems to me that seeing the different viewpoints and contingencies can come with age (and should) if you are a non-lawyer. But from my experience for a lawyer what has to come with age is learning how to back off from analyzing every aspect of everything, to realize that you can relax your vigilance sometimes without the sky falling, to realize that you are person and that the world isn''t ''persuade or argue'' but rather sometimes if just ''is.''
It''s probably a case of ''six of one, half dozen of the other'' and the grass just seems greener on that side.