Joined

Jun 30, 2020
Messages

2
Hi,
I'm looking to buy a radiant cut diamond to have set in a custom platinum "twisted wire" 4 claw setting (see photo for reference).
I was hoping to get some advice as to which radiant cut diamond you would consider the best, since the one i had picked out was sold just hours before my order was to be placed!
I am located in Australia and only interested in buying from this website as they are in the process of designing the band i'd like.
I love the "crushed ice" look of the radiant cut diamonds and want something as big as possible within my budget, without sacrificing on clarity or colour. The diamond i had picked was 1.7ct / G / VS2 with face up area the same or bigger than 1.8-1.9ct similar diamonds i had been looking at. So I'm happy to go smaller weight for similar face up value.
These are the ones I have ear marked but would appreciate any feedback as I don't have a professional eye for the faceting and how light would reflect within the diamond.
1.8ct / H / VS1 / face up value 45.6mm2
1.7ct / G / VS1 - larger face up value (46.6mm2) than the above 1.8ct and better colour...i think this is my pick of the lot?
1.7ct / F / VVS2 - much smaller face up value than the two above (42.5mm2) but is it a much better quality diamond?
1.7ct / G / VVS2 / face up value 46.1mm2 - this one is said to be "super ideal" whereas the others are only very good cuts (however i believe radiant cuts are only certified to VG and anything beyond that is the company's own rating?) but the corner edges look longer than normal to me and as such is it less desirable?
Again I really appreciate anybody who takes the time to comment, and just want to reiterate that while I have done lots of research, I am not a professional and can't tell from a video what cut/shape will give the most brilliant/firey looking diamond!
Thanks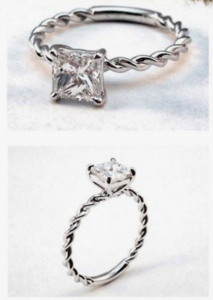 example of twisted wire band.