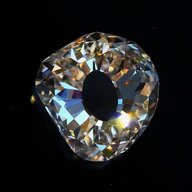 Joined

Oct 21, 2004
Messages

4,881
Some good questions about the influx of antique diamond cut availabilities in recent years in this post
https://www.pricescope.com/community/threads/anyone-for-a-massive-old-mine-cut-or-two-15ct-and-26ct.251993/
I thought this subject deserves its own title...
Answers intertwine with a few scenarios where commerce and information has changed in the last two decades.
Twenty years ago (which 15 of them are recorded here on Pricescope), when I just started cutting rough diamonds into antique style cuts was considered never heard off. I remember antique jewelry dealers and retailers having a terrible time accepting such a product, Some even where serious about showing me the door out, completely rejecting such new diamonds.
Luckily I also met a few great jewelry personas which actually appreciated my work from the beginning and thus the rest is history as they say.
Now to the point.
We have to remember that old cut diamonds have been around for much longer than the modern cuts we are so used to seeing. The first 58 facet Brilliant cuts date to the first half of the 17th century (and there were plenty of forerunners being produced well before), it's true that diamond production was not as it is today but we still need to understand that there were plenty of antique diamonds produced over a time span of over 400 years. That is a lot time compared to the era of modern cuts which is only about 100 years old (Tolkowsky 1919).
Back when I started, almost all the old cuts diamonds re-entering the trade (by second hand purchases) were being recut at almost no questions asked. Actually until 5-10 years this was still the case believe it or not. Even presently, there are still plenty of old cuts being recut to modern cuts for different economic reasons.
But another thing happened in the last 20 years..., the internet highway of information has entered our lives and changed the way we live, educate ourselves, purchase and entertain ourselves (just a short list).
Antique jewelry and gems have been noticed by both the public and industry professionals as one, the point of incident was a huge boom (IMO were still in it).
From being looked upon as old grandmothers jewelry styles to some of the hottest trends in jewelry designs. Contemporary jewelers also discovered their unique beauty and characteristics accepting them into their design worlds. And of course diamond professionals discovering their hidden values over recutting them to the same old same. All that mix is responsible for what we are currently seeing all over social media. Antique gems, diamonds and jewelry have been inducted to the classical term to its fullest. It's not a trend anymore.
Given these circumstances, such a popular subject has brought a lot of foul play into the mix (like in all other categories), luckily we are still able to recognize genuine antiques but it definitely takes a sharp eye these days.
Most cutters don't have the historical knowledge , practice and information to be able to mimic the unique characteristics that make up antique jewels and/or gems. The craftsmanship is just too time consuming in this world of quick turnovers and sales.
My suggestion would be to research well before purchasing antique gems or jewelry from just any vendor offering them. All the information for secured jewelry purchases in out there, we just need to know what to look for.
Hopefully my writing will open this discussion to an open forum discussion which will benefit us on the subject of antique diamonds in the genuine term.
I will keep my eyes open.
Have a great weekend,