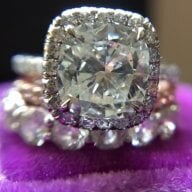 Joined

Apr 25, 2013
Messages

592
Question for those who are in the know-
I have been seeing a HUGE rise in "moval" or super elongated oval rings. I love to just go to the diamond district on "sight seeing" visits and every time I go, I see more and more of these in the windows of some of the fancier dealers in downtown LA, not to mention on Instagram. And of course, everyones favorite little trend setter (ugh) Kylie Jenner was recently given a moval halo ring, so you know all the soon-to-be weds are going to be adding this to their pinterest page.
So after that rambling, the question- I don't see a ton of nice, super elongate ovals out in the market (yet) other than a few custom cuts- such as the moval that Rahaminov is currently charging a premium for. Do you think there is going to be a rise in cutters taking Marquise and re-cutting them? or in consumers asking to have their marquise stones re-cut to have the edges softened? Is this something viable?
I ask selfishly because one of my family members has a nice sized marquise and I have been eyeing it of late, trying to decide how to coerce them into giving it to me so I can have it made into a fancy right hand moval cluster ring


Was curious to know your thoughts...