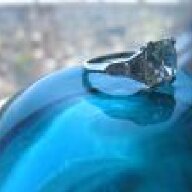 Joined

May 31, 2011
Messages

163
Hello lovely Pricescopers,
If you don't mind, I would love to pick your collective brains about something. I recently sent a stone off to a jeweler in the hopes that the jeweler might offer to buy the stone. The jeweler responded and is interested in buying the stone, but made an offer that is almost 50% below the current price for an identical stone. This stone also happens to be housed in a setting (nothing intricate, but setting cost about $400).

Is this price what I should expect by trying to trade in/sell a stone? The other option is to consign the piece, but I'm not sure if that would fetch much more after consignment fees.

Appreciate any thoughts you may have!