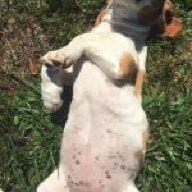 Joined

Dec 27, 2013
Messages

2,740
Hi all, I am reaching out to see if any PS members might have some ideas for me. I'm looking for a good website to buy some Poppies/Poppy themed fabric. I need to find something at a reasonable cost that would wash well and probably not a white/light background.

I have a couple of projects in mind for my puppy. One would be a couple of dog bandanas that she could alternate to wear to class or on therapy visits eventually. I don't know of a vendor for this, but am hoping to find someone on etsy so let me know if you have a suggestion. The second project will be to have a custom bag made to carry some of her stuff to events. (Treats, water, bowl, brush, etc.). I have also been looking for someone to make a custom mat for her travel crate, but nobody at the shows so far has had poppy fabric.

Do you have any favorite fabric websites or etsy vendors that you can suggest for any of the above?

Thank you in advance for any ideas that you might have for Poppy!