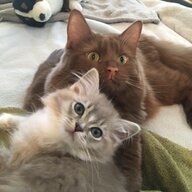 Joined

Jul 12, 2015
Messages

753
Hi all! I am embarking on a dangle earrings project with cushions and I am torn between using square cushions or elongated (rectangular) cushions. The diamonds will be bezel-set to accentuate their silhouette. Aside from personal preference, can anyone think of any reason to favor one shape over the other? Or if you do have a strong preference for one shape over the other, feel free to share that as well! I have a bad habit of overthinking things at times (bling projects especially!) so I am trying to avoid that, but I just want to make sure I am not missing anything!

As a side note, I am thinking about changing my username in the near future. I am very passionate about the earth and am a huge environmentalist, and when I joined PS almost five years ago I naively only thought about my username signifying the carbon from which diamonds emanate and didn't consider it having any association with our carbon footprint, which frankly is beyond horrifying. So in any case, my moral compass wants me to change it, but I am not sure if that would prevent people from finding me, so I am still thinking.

Regardless, please feel free to weigh in on whether I should go for square or elongated cushions for my dangles project! Many thanks in advance!
Last edited: