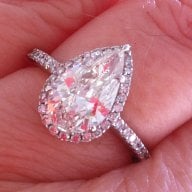 Joined

May 23, 2010
Messages

6,731
In keeping with staci's yard sale thread, I've got a find to report!


I went to a garage sale on Friday, in a very nice neighborhood, and saw a small sign among the lovely things: "Ask to see designer bags".
So I did. The lady goes in, comes out a minute later with 3 LOUIS VUITTON BAGS!!!
And they're real! I can tell, I have purchased 3 of my own, so I know them like the back of my hand. They look right, feel right, everything.
"How much are you asking?"
"I was thinking $50 each?"
"Okay, may I look at them?" She hands me armful of monogram canvas!
I spend a few minutes checking them over so carefully, just to be sure. The other shoppers are looking at me closely to see if I look like I am even CONSIDERING putting them down. As if. :biggrin:
I say "If I get these 2, can I get this one, which isn't in great shape, for a little less?"
"Sure, I'll sell that one for $25."
I got a Keepall Bandouliere 55 (duffle bag), a Neverfull GM (tote bag), which is a tote bag, and a Speedy 30 (barrel-shaped hand bag). For $125. O. M. G. They all have a faint perfume odor, but for the price I can work on that (I've found a sock full of baking soda, set inside the bag, works great!)
The Speedy is pretty worn out, but for $25, I can CUT IT UP
and sew a wallet. Just kidding, I wouldn't do that. But I could . . . haha
The Neverfull is great, looks barely used.
The Keepall has a stain on the strap, but I think it will blend in more when the vachetta darkens.
I will remember that sale forever.
Here's the quick pic that I texted my DD.