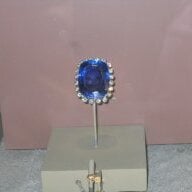 Joined

Sep 5, 2003
Messages

2,379
Is there anyone else out there besides Kunzite and me who exclusively pump??

Kunzite, to answer your question about whether you should really strictly adhere to a time schedule while EPing...it's my understanding that it's more the number of pumps that matter in maintaining your supply rather than the time in between. But, it sounds like your LC was more worried about you developing non-supply issues if you varied your pumps. When I first was pumping 8-12 times a day, I generally pumped every 2 or 3 hours, but the time didn't matter to me as long as I snuck in the sessions somehow. Once I started dropping pumps, I do have to say it started to matter more that I stuck to pumping more on a schedule b/c if I waited too long in between pumps, I would get clogged ducts and milk blisters. But it was never as strict as 5 mins or anything! That sounds crazy!

The longer I've pumped, the more my body has adapted and I was able to drop to 3 pumps this week without much engorgement or pain. I'll have to be pretty vigilant in making sure I pump very close to 4.30am, 1pm, and 8pm or else my boobs might explode! When I was pumping 4 times a day, I pumped at 10 and 3 at work and made sure to only vary that by an hour or so, but that was more to do with logistics of having a place available rather than supply.

I hope this helps. How long have you been doing it?

Also, I've pumped on planes in my aisle seat, in front of colleagues, and other places, so if you need any tips, let me know!