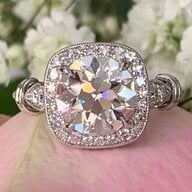 Joined

Jan 11, 2006
Messages

58,244
What a wonderful get together PS hosted this year! Many, many thanks to Andrey and Linh for hosting such a lovely party just for us!

I am sooo happy that my bling buddy, Bright Ice, and I were able to go again!!! The GTG just gets better every year!
There were many people there, but it wasn't so crowded that it would be hard to visit with people. In fact, I stayed the latest I ever have (after midnight) because we were just enjoying visiting with each other! I felt like I knew a majority of the people there after going 3 times! A lot of our favorite vendors were there, and we really enjoyed the time they spent talking with us, and I hope they did, too! The door prizes they donated were fabulous, and there were some very thrilled winners! I'll let them post if they choose to! I won a wonderful set of 3 books, Chanel, Van Cleef and Arpels, and Mikimoto, donated by Jeff Ira of Metro Jewelry Appraisers!!!

I have been on this forum for 10 years and the PS community means a lot to me! The wonderful thing is, many of us have made real life friends through this forum! We may have diverse backgrounds, ages, political leanings, etc. but we have the bond of a common love for fine diamonds, gems, and jewelry! I can't say enough about our vendors, also. They are just the best!!!

(Many people don't want their pictures publicly posted, so I will only post the traditional pic of Madelise wearing many of the members' gorgeous rings (without and with flash)! Make note of Madelise's fabulous manicure, too! Others can post pictures of themselves or their jewelry. Please do not post pictures of others without their permission.)
I do want to add one funny thing related to this picture. When I got home last night and showed my daughter the picture, she asked which one was my diamond. (It is on the far right, top ring.) I pointed it out and she replied, "Mom, your diamond looks small. You need to step up your game if you're going to Las Vegas again."

Thank you again to Andrey and Linh and any others who helped with the party!!!!! Great food, fellowship, and friends!!! We love our PS people!