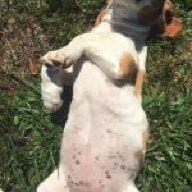 Joined

Dec 27, 2013
Messages

2,740
I haven't ever shared this type of thing on PS. However, DH & I are having a debate so thought I would get your input if you don't mind.

DH & I decided to go out and grab dinner tonight at a local restaurant. On the way out my DH taps me on the shoulder and alerts me that my family is immediately to my right. I literally have to pass them to exit out the door. Of course, we stop to say hello and exchange pleasantries. Sitting at the table are my Mom, step dad, step brother, his wife & kids, aunt & uncle, great niece and a few other family members. My step grandma is at the head of the very large table. They were celebrating her 94th birthday. She's especially confused by DH & I being there because she was told we were "too busy" to make it.
We were not invited.
Just an aside that DH & I had lunch with my Mom & step dad a few days ago and nothing was mentioned. My Mom also lives over an hour away so it's not like she just ran out to an impromptu dinner. My step dad seems totally confused as does our Aunt & Uncle because my Mom has told them we were not available.

I felt extremely awkward, but smiled and wished Grandma a Happy Birthday. She kept saying she didn't understand how we could be there when she was told we were not available. Anyhow, DH said I handled it very gracefully. He doesn't know how I didn't call my mom out and embarrass her. This kind of thing has happened all throughout my life (to me & other family members or friends) so it's easier for me to ignore. However, DH is fuming and wants me to send an email to my aunt to ask them to contact us directly from now on rather than pass an invite through my Mom.
Should I set the record straight that we were not invited?
Also, does anyone have a family member that pulls things like this? If so, how do you handle it? Confront or ignore?