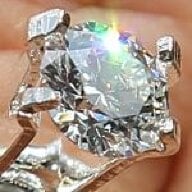 Joined

Apr 25, 2014
Messages

6,877
So, purely because I've been wondering this in my head and I knew PS would have the answers...

If one is to propose with a sparkly lump of carbon, should one do it in the worst possible light for a diamond to be seen in? You know, strip lights (romantic? lol), flat grey skies, etc) or should one find the best possible light for the diamond, such as a candleit restaurant?
In my head that latter will have that instant 'wow' factor, but would that lead to disappointment when the stone doesn't then look like like
[email protected]
"@*"6984_!