Joined

Jun 12, 2021
Messages

10
I am a PS lurker (let's just admit this first) and the recent lucky recipient of two loose diamonds from my partner's mother. I think they were at one point earring stones, but they've long since been unmounted. My sweetest (future) mother-in-law gifted them to me along with a bracelet and a pair of earrings (for a bridal set), suggesting I use one as a pendant and another as my e-ring stone.
The stones are incredibly close in carat weight (0.9ct ballpark), colour and clarity. Both score below 2 in the HCA. The only differences are in proportions and (as I just discovered today) symmetry.
One has a 34.5/40.2 crown/pavilion combination and the other is a 35.0/40.6. My first thought was - this is absolutely perfect! The 40.2 can go into the pendant and the 40.6 into the ring. So today I took both stones to my jeweller to discuss the settings, and he asked if I wanted to view them through a H&A loupe just for kicks, although these are not H&A stones. And of course… I said yes and then discovered the situation was not as clear-cut as I had envisioned.
The 35.0/40.6 stone meant for my e-ring had a wonky hearts image (my heart just fell when I saw it), whereas the 34.5/40.2 stone was far more symmetrical. The wonky hearts image is below, granted some of it is camera tilt but you can clearly see the hearts are different sizes. I foolishly did not capture the more symmetrical one, but trust me, the hearts were at least the same size and it looked a lot better.
Which one should I pick for my e-ring? The hearts image looks horrendous to me, but at the same time a 40.2 pavilion angle seems way too shallow for a ring. Will such asymmetry impact light return? There is no question that the two stones are definitely going into a bridal pendant and an e-ring respectively (I do not want to disappoint the lovely woman who so generously gifted them to me!) but which to which? Proportions or symmetry?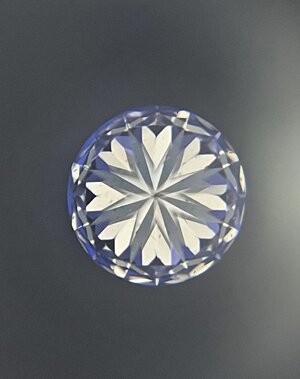 Last edited: