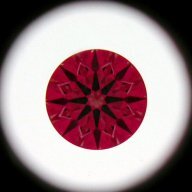 Joined

Feb 16, 2005
Messages

624

Hi everyone!
I have decided to make a 3 stone ring using my 1.5ct round as the center stone. I know the answer to this question is probably "it''s personal opinion" but I was asking for your opinions as well
...
I am having a hard time deciding what size side diamonds (they would be round) to put on either side. Since I have a limited budget, I have decided to go with a white gold setting to apply more $ toward the diamonds.
I should also point out my i.5ct measures only 7mm so it faces up more like a 1.25ct. I tried on a setting with each side stone .15ct (so .30ct total wt) and thought it really made the center stone stand out. It wasn''t a traditional 3 stone ring per say, but it was gorgeous.
I also tried on a mounting with each side stone .32ct (so about .65ct total wt). Wow! It was more than my budget but it looked like the traditional 3 stone look I originally had in mind.
Now what I could do is use my .38ct round (which measures 4.5mm so faces up more like a 1/3ct) that was my original e-ring as one of the side stones and try to find another one to match it. I feel kind of bad using it because I just had it remounted into an x-prong solitaire and thus would have totally wasted my $ on that. Plus, my husband would not be too happy seeing me remount both my rings twice in less than 2 months!

(With a 2 year old and an 11 month old, I hardly wear any bling at all!)
Thanks for your help.
So, I was wondering what everyone liked. I will try to post pics to show the difference. The smaller side stones definitely look more like accent stones but then again I am not a really bling bling gal.