Hi! This is my first post on PS, but I've been doing some research since I got engaged on Christmas Day here. The background of this ring is that my fiancé went to a local jeweller that's been in business for 50 years, a family owned business. He picked this shop because it's in the town that we just bought our new house at and it had great reviews online. He went in and picked out a semi-mount by Noam Carver and a lab grown diamond. He did so good, cause I love it! But, at the time the ring had to be shipped from Montreal (we're in Toronto) and he was hoping to get it before Christmas. Literally on Christmas Eve, the jeweller said it finally arrived and that he will set the diamond in a few hours. My fiancé was in a rush, since he was trying to surprise me and we live together, so he just took it and paid and left. He forgot to get any certificate for it. Besides that, though, I've noticed that the diamond isn't set properly. It's on a tiny tilt and a few of the prongs are not properly bent over or in the seats. When I first wore it, it wasn't moving at all in the setting, but now I can turn the diamond like a mm and then it stops and I can turn it back. It doesn't go up and down. So I think it's pretty secure for now but I definitely want to get it fixed after the lockdown (in Feb). So my question is: is it an easy fix? Does he just have to bend the prongs closer to or does he have to reset the diamond? I actually want it set a little bit lower anyway so I hope the jeweller will do this for free. I also need it resized, it's a bit too big. Thoughts? See below for pics. TIA!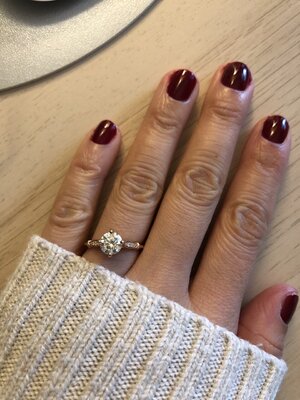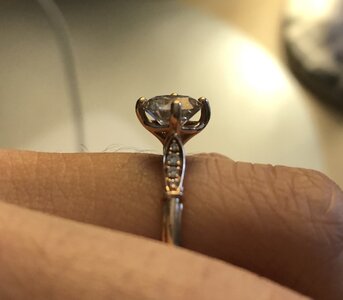 Prong on the right in above pic is off the table, can slide a piece of paper underneath. All other prongs are on table.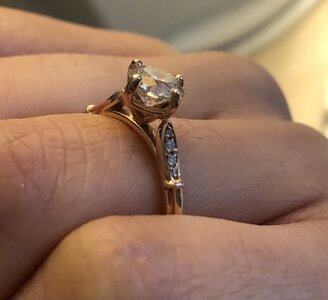 Above pic just showing another angle and the space underneath the diamond.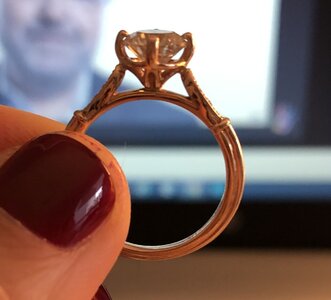 Prongs on both sides have light that pass through, but they seem to be in the seats?