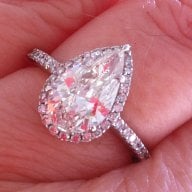 Joined

May 23, 2010
Messages

6,731
Here's a lousy picture of the items I am planning to list on Diamond Bistro in the next week or two.
If you have any interest, please let me know and I will photograph and list that item first. No pressure at all, just want to prioritize. You can post here or contact me through one of my listings on the Bistro.
Roughly left to right in the pic:
-Ridiculous Rainbow Orient Double-strand Baroque Freshwater Pearl Bracelet w Natural Color Round Pink and Purple Pearls. (can't decide . . . )
-Baroque Freshwater Intense Natural Color Baroque Freshwater Bracelet ($160)
-14K Aquamarine (each stone 4 x 6) Eternity Bracelet ($499)
-14K 3D Dolphin Earrings ($145)
-14K Dolphin Slider Pendant (never used) ($85)
-Sterling and Iolite Artist-Made Modernist Pendant with Chain (cone shape) ($165)
-Amazing Jade, Boulder Opal, and Tourmaline 14K Pendant Pin, Artist Made (abstract shape) ($399)
-Norwegian Sterling Pin ($85)
-Winnie The Pooh and Piglet Scrimshaw (on resin) and Walnut Pin, Rare - around $45
-Real Chambered Nautilus and Sterling Earrings ($45)
I told you guys I had a crazy assortment!