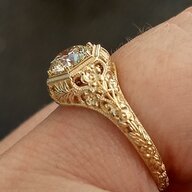 Joined

Mar 17, 2013
Messages

36
I know this is a jewelry forum. But, I'm posting because my city and state were torn apart by a widespread natural disaster on Monday. I live in Cedar Rapids, Iowa, with a population of 130,000 in just the direct metro area. There is a national tragedy occurring that is getting zero media coverage. We were hit with a rare storm called a derecho, sometimes referred to as a land hurricane. Our entire area was hit with winds reaching 112 mph, sustained over the period of up to an hour. That is a category 3 hurricane. In Iowa. An area where we have (had) large, beautiful century old oak trees, pine trees, and maple trees vulnerable to wind. Our construction here is not built to withstand hurricanes, since we live inland. We had minutes of warning, not days. It came out of nowhere, swept our city up and rearranged it into something unrecognizable. Trees were turned into projectiles, cars and houses were crushed and knocked off their foundations, and buildings were blown away. The tree damage is unreal. The few out of state tree cutters that have shown up to help have said this is worse than Katrina due to the sheer scale of damage. There is severe damage to every single surrounding community for miles in every direction. A half a million customers in the state of Iowa lost power. Initally, just based on a quick visual inspection from our fire department, there are nearly 1100 homes that are uninhabitable, and thousands more with moderate structure damage in Cedar Rapids alone. 85-90% of the homes in the area are damaged. All schools have moderate to severe damage, and the debate over sending kids back to learn during the pandemic is a thing of the past. The hospitals are bursting at the seams. People are hungry because the few stores that have regained power and were in a condition to open have been stripped of supplies. Most of my friends will be out of power and communication for several more days. It's getting harder to cope as exhaustion from the endless hours of clean up and hunting for necessities sets in.

I have been one of the lucky. It happened Monday, and now on Friday I am so thankful to have power back, and the ability to get online and type this in my air conditioned home that is still standing. Our damage was minimal compared to many who have lost everything, with nowhere to go. Our shed was damaged, fence bent up by a falling tree, many trees in our backyard stripped bare, our gutters blew off our house, our roof lost it's ridge cap, and has several holes, the siding is beaten up, our ceilings have water spots and leaks, our trampoline was destroyed and some food in our fridge spoiled. But, our house is still standing, and we are safe.

I know I might get some questions about what you can do. Please, spread the word. Look up pictures, and see what I'm describing. I'll post some of my own when I am able. Post on social media. We need awareness so aid will be sent. America's heartland was destroyed this week, and it didn't even make the back page of the national news. If this had been a hurricane on the east coast, it would have received wall to wall coverage, and we as a whole are feeling like fly over country right now. 10 MILLION acres of crops were destroyed. That's almost 50% of Iowa's yeild. America's food. Once I got my internet back, I was shocked the rest of the world didn't even notice. I'm making it my mission to get my story out there as much as I can. I've lived here almost my whole life, and a big part of my history was destroyed on Monday. There are over a half a million other people who will say the exact same thing. The rest of America didn't even notice. I'm heartbroken, sad and turning numb in my grief.

Sorry for the vent! My whole world and every single person I know has just had their whole world turned upside down. Please spread the word. We need help.