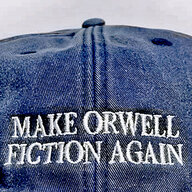 Joined

Apr 30, 2005
Messages

29,708
... in my recent PSA thread for making alcohol wipes.
I finally had some time, and since few will open that PSA thread again ... here ya go ...
Bibi is a hand-raised 6-yr old Yellow Sided Green Cheek conure.
You can spend a zillion bucks on parrot toys, but Bibi's favorite is an erect cable tie for head scritches.
The head is the only place that his beak can't reach to preen/groom/scratch.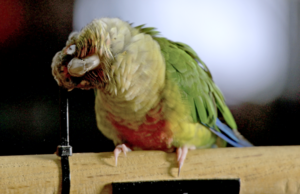 After he takes a bath we dry most of the water off in a cloth.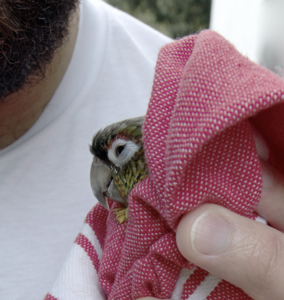 He loves to cuddle and take naps on handsome men.
Parrots sleep 12 hours a day, half their life.
I suspect these birds sleep with their beaks tucked in their backs so they can breath in warmer air.
Flying birds must stay as light as possible by not carrying around much fat.
Also to stay light their metabolism requires they eat (and poop) often, so keeping warm is important.
When sleeping, or just chillin, they tuck one foot into their breast feathers as feet are the only place not covered with warm feathers.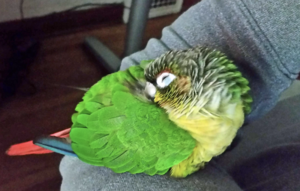 Taking a nap in SO's 'nest'.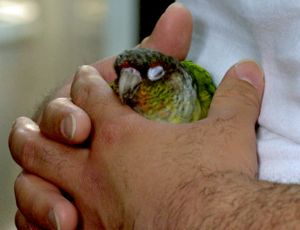 Catching some shut eye with his grumpy old white man.
I often take him out when shopping, and he usually hangs out in my collar to feel warm and safe but watch the world go by.
The ladies say, "OMG! How CUTE!"
I ask them, "Me, or the bird?"
They always laugh and respond, "Both"
When I walk outside in the cold he crawls down into my shirt.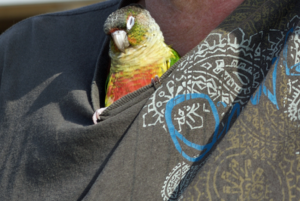 Last edited: