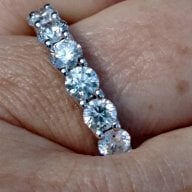 Joined

Dec 17, 2008
Messages

22,097
We've had microfiber suede for the last 10 years or so. It has held up very well. Cleans up nicely when there is a spill or accident. Doesnt pull if you
have cats. Doesnt seem to collect fur (cats again).
That being said, I just ordered non-microfiber couches from Havertys. I was ready for a different look...hope I didnt make a mistake. I havent received
them yet.
Here is the style I ordered except in an 89 inch couch and 86 inch loveseat. The fabric actually has a pretty pattern to it but you cant see it in the picture.
I stayed with a darker color to help hide any stains. I really wanted to go lighter but I was too afraid it wouldnt hide stains. Its suppose to be here next
month.