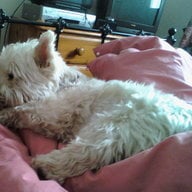 Joined

Jun 1, 2018
Messages

1,286
Hey guys.
Before Christmas, I bought the matching band for my ring.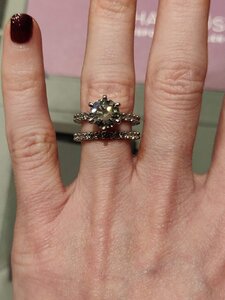 It was designed at the same time as my main ring, and because the ring process was rather convoluted (four versions later!), Durham Rose decided to make the band at the same time. This meant the same setter was involved with both rings and they would match as closely as possible. No pressure on me to buy, but available if I wanted it, and at a very kind discount.
A number of months later I decided to buy the band. It didn't go completely to plan - it had to go back to the workshop for a bit of refining work, which was frustrating honestly - but I'm much happier with it now.
However, I guess I've been a bit stubborn about it all. I always knew based on my main ring design that having a band like this would mean I also needed to have a spacer, I just didn't want to change the design of my main ring. I also didn't want a curved band. I know I don't have a design bone in my body and I know my set isn't like... I don't know... I see all these rings by CvB etc and I know they're on another level. But I love my set as it is. I just need to figure out a spacer - and it's proving rather difficult.
I've tried various things and I'm not completely happy with any of them, and I'm wondering if you guys might have any brighter ideas? I want various things - firstly, I don't want anything 'curved' per se. I don't mind wavy (you'll see examples in a moment), but there are various rings that are either V or U shaped, and I'm not keen.
Things I've tried:
A really thin silver band, and it's what I keep coming back to for its simplicity, but I'm not convinced: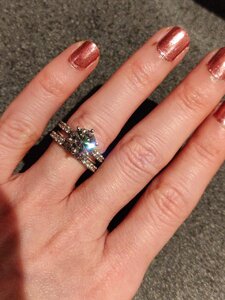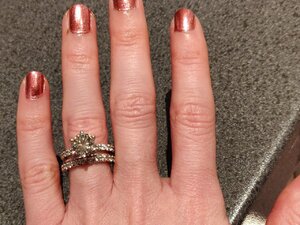 I'm not sure if maybe I made it taller so that it was the same depth as the other two rings? Maybe that would be the solution and make it 'meld' more? I also thought about having a knife-edge type ring, but I can't find a cheap, thin version to try out in the UK, and I feel like it's not going to be quite right.
For years I've had an
obsession
with floral rings, so I've tried various versions of this to test it out.
A fun floral ring from Pandora: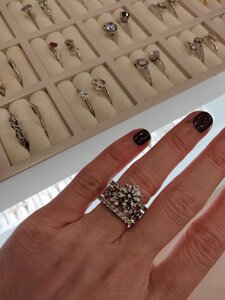 I liked it because the divots in the pattern allow the rings to all sit with very little negative space, but it was too wide and busy really (even though it was kind of cute). Also, I guess it was kind of childish. I tried to find one that was similar, more narrow, without stones - but unfortunately, the pressed silver of the next one was too white and too busy. I didn't like it even if the colour had been correct.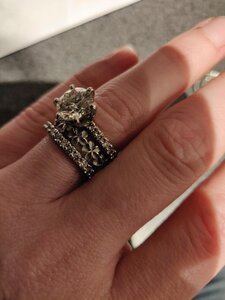 Then I wondered if something 'vine' like would work. I tried this ring on in De Beers, and it was a gorgeous ring (although exceptionally overpriced).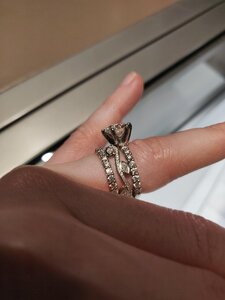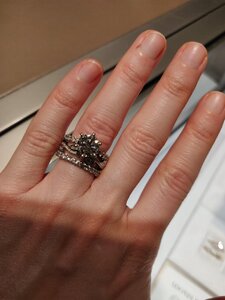 I showed it to my mum, whose opinion I value, and she didn't like it.
She said she felt it was really competing for the attention of my central diamond. I clearly have short fingers so it was a lot of real estate that it was taking up... and in retrospect, I'm not sure what I think of it, but at the time I thought it looked lovely (and was also swept away by the floral nature of it).
Thinking it was perhaps a good idea to use the 'wave' type shape but go more subtle, I then obtained a thin silver wavy band.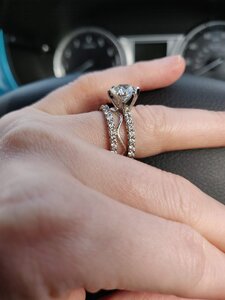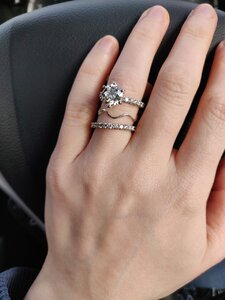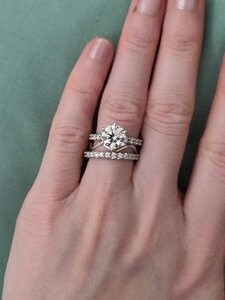 I don't know. I liked it to begin with, it's actually relatively difficult to see, which I quite liked... but somehow it's still not right? Too big a gap? I wondered whether maybe I need the same band, but just not as wide (half the width?). I'm sure I could get one, and that might be the next thing I do. I also keep imagining little leaves on it, like a metal version of the De Beers ring - but I'm getting fed up of trying various things in what is starting to feel like a really disjointed way. None of them are costing a lot, but it's starting to all add up (especially customs!) and that seems a bit wasteful, too.
Any ideas or comments? Thanks a million.
PS: I'm sure the pictures are going to be immensely huge ... but diamonds - so I'm not really sorry.