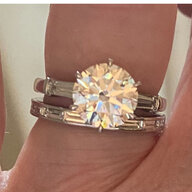 Joined

Mar 31, 2018
Messages

10,148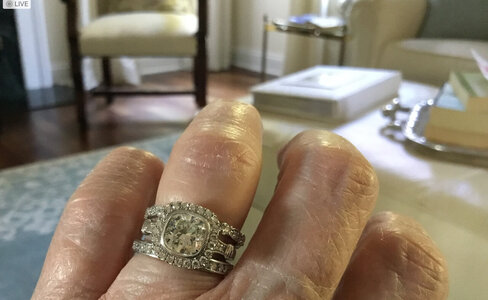 I decided I want to reset my cushion found by
@mrs-b
.
I actually named her Bee after her..lol....I absolutely love the setting...and I absolutely love Bee...I just don't think they go together...I want to put her into a setting without a halo...The diamond halo is so sparkly with vs white diamonds...It wasn't a cheap setting to make so I don't what to do with it when he does take her out. I really want to reduce the amount of rings I have but am toying with resetting her into a plain setting like this...She's much smaller at 7.25x7.17x4.98...I don't mind a small ring for my right hand. I don't want to give her up...She is a unicorn..a completely eye clean SI2..This inspiration diamond is way bigger than her...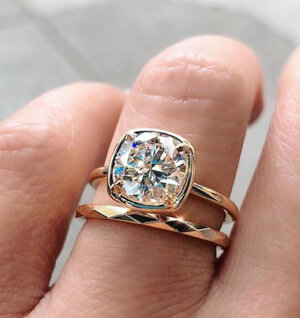 I'm also considering a solitaire bangle bracelet...but not sure an open bangle would be
[email protected]
posted this but now I don't remember whose bangle it is..sorry. It would be in white gold...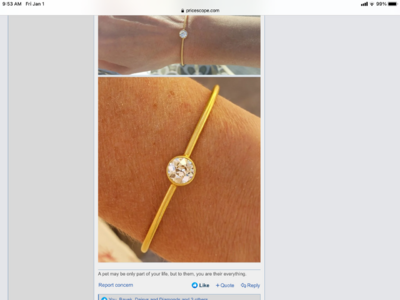 I am also toying with a fixed chain bezel pendant. I really have enough pendants...but they are so pretty. I could layer it...
Now what to do with the Bee's halo setting? It's absolute gorgeous...David can take out the cushion safely but the bezel will be damaged a little. He said he could fix it without a problem. I told him I may want to set it with a colored gem. TBH that would just give me another ring when I'm trying to reduce the number. Also...finding a gem to fit in that exact space will be very hard. I thought about just dismantling it..let David melt it down..but what do I do with those beautiful melee? Is it worth it to make a bar necklace or another band? I have enough diamond bands too..Ugh...I don't like to waste anything. I need help organizing my thoughts. I need voices of reasoning. Please help! Thank you!