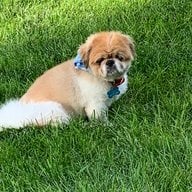 Joined

Aug 2, 2018
Messages

105
Hello Friends:
I posted recently asking about the process of creating a ring and got some excellent guidance from the group. This weekend, we decided it's time to start looking for the stone! Since my Mister has zero knowledge about jewelry and he wants me to be happy, he's told me to take the lead on the project. I'm giddy with excitement!!
I know this group has the collective wisdom and knowledge to help me on my search.
First, what I'm looking for:
Color:Cornflower to electric blue. I know that's not very specific but I find color very hard to describe. It needs to be bright blue. I will post some pics of some of my favorite PSers gorgeous stones and a few I like on line.
Based on my reading here, I know that a stone may darken when set so I'm really looking for feedback regarding not only the color as a loose stone but in a setting. I don't care for bezel settings so I'm hoping a more open setting will help with this concern. I welcome your feedback.
I'm still not sure whether a sparkly or sleepy stone will make my heart go pitter patter more. I think the color is going to be the ultimate factor.
Cut/Size
looking for a round but open to a "roval." I just don't want the stone to be too elongated
6.5-7 mm but would consider a little smaller or bigger if the color is right and within budget
Treatment:
I'm fine with a heat treated stone
Budget
Do you think I'm being reasonable in what I'm looking for and my budget?
Here are some sapphires I have seen on line that really caught my attention. For some reason, I keep getting drawn back to GemFix. Any feedback on working with them would also be very appreciated.
https://gemfix.com/gems/sapphire-blue-11-1322
Wrong cut and out of budget but....oh MOMMY!!! that color in the video is to die for!!!
https://gemfix.com/gems/sapphire-blue-11-1325
In budget (by the skin of my teeth!

), right cut. Love the color but is it going to darken in a setting??
https://gemfix.com/gems/sapphire-blue-11-1336
very yummy!
I also love some fabulous PSers sapphires. These are more examples of the color I want.
@mpc
ring color is devine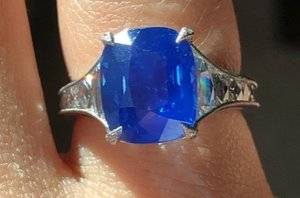 @Acinom
so gorgeous!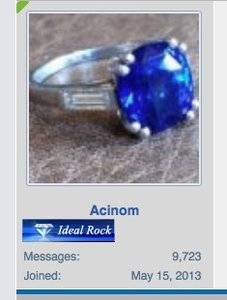 Thank you all in advance for helping me on my quest. This just got so real!!!