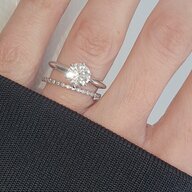 Joined

Sep 17, 2020
Messages

80
Hi there everyone, I'm a newbie here, I came over from Weddingbee after hearing that this was THE place to find out about diamonds
So basically I'm am on the hunt for a round brilliant solitaire. I've owned diamonds before but nothing of high quality and never anything over 0.3 carats. I have my heart set on a
Whiteflash
diamond in one of their in house ranges and I'm wondering how much I can compromise as far as colour before it becomes an issue.
My ultimate dream is a 1.5ct but in reality I am probably more likely to end up in the 0.9 - 1 carat mark.
My main goals are sparkle and size, but I also don't want to end up with a yellow looking diamond. I want a diamond that looks good in real life lighting if that makes sense. I feel like all diamonds look great under LED lighting but then I see all their flaws in the real world and my ocd kicks in.
I am intending on setting it in a white gold solitaire. At first I had considered a hidden halo/collar but if I am flexible on the colour of the main stone I worry that the halo might make it look yellow. Originally I have intended to go with a H but now I am wondering how much further I can push things to get a bit more finger coverage.
Also an eye clean stone is essential but I think all of their in house stone are eye clean?
I know that I can probably find a diamond that is very close to their more premium cuts but tbh I don't feel knowledgeable enough and I think that taking the guess work out of it would be a huge relief mentally. Plus I live in Australia and given how ridiculously overpriced diamonds are here I would probably end up buying a dimaond online anyway so I figured I might as well aim for something super high quality.
I would love to hear from anyone who has bought from
whiteflash
as well