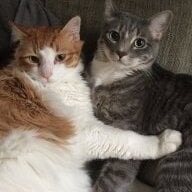 Joined

Mar 5, 2013
Messages

2,836
Hi all,
I have two sapphires in my possession, and I'm having a hard time choosing between them. I really like them both. They are both Ceylon, almost the same face up size (less than .5 mm difference, .3 to be exact). One is heated, the other is not; that doesn't matter overly much to me though. The price point is similar per carat, but one costs about $200 more because it weighs slightly more (which shows not in face up but in a heavier, though not oddly looking, bottom).
My "issue" is that one of them is basically the exact color I really want, but the other is close to the color I want, plus it has a noticeably better cut. The one that has the better color has a nice cut, especially for a sapphire; but the other has a VERY nice cut, and it has gorgeous sparkle. The one with the better cut goes between looking nice and looking really beautiful, depending on lighting (in sunlight it deepens up to a more vibrant blue) - but it never really closes up, and looks at minimum decent in most all situations. The one with the better color looks AMAZING in good to ideal lighting situations, but closes up much more easily. It never really looks black, but it looks just ok a lot of the time; whereas the better cut sapphire looks better more often. If that makes sense, lol.
I do have a bit of a preference, but I would like to hear your opinions. Obviously I don't *have* to choose either one, but I do like them both a lot. They are not cheap stones, both at or over the $1k mark, and any gem that I spend $1k on is a gem that I take seriously. I want to make the right choice, which is why I want help, lol!
I'm thinking that I'll probably set the one I choose in a 3 stone ring, with a pair of OECs that I've been saving for a special project (@5 mm each, 1 ctw, H/I, Si, if I remember right).
I'm including a ton of pics. I'm curious which sapphire YOU would choose; and keep in mind that I'll most likely set it with the diamonds that I'm showing. (Unfortunately I couldn't get the diamonds to look their best in these pics, you'll just have to trust that they look better IRL).
We'll call them Sapphire one and sapphire two.
Sapphire one: .91 cts, 5.7 mm, untreated, the lesser of the two by $200. Also the better cut. Ceylon.
Sapphire two: 1.16 cts, 6 mm, heated, more expensive by $200, better color, Ceylon.
The pics show them at their best, IMO. But please keep in mind that although sapphire two has a better color, sapphire one looks better a higher percentage of the time due to the cut.