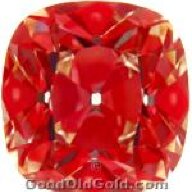 Joined

Aug 16, 2011
Messages

124
Poll attached
Ok, Im between these settings to go with the GOG AVC I had previously posted about:
http://goodoldgold.com/diamond/8726/
Its a 0.92 K VS2 AGS000 that measures 5.76mm x 5.94mm x 3.77mm. I know she really wants a thinner pave setting and these are the choices Ive found as the most appealing. Please let me know what you think works best with this stone and why.
Some things I like about each:
The
Fifth Ave
looks similar to the Tiffany Novo. I like the look of the pave and the simple design as well as the shape of the prongs, albeit a tad large. What I dont like is that its a bit thicker than the other settings.
The
Corsica
has beautiful double prongs and a gorgeous side profile. I cant find a shot of it though from the top down to see what the pave looks like square on
The
Harmony
has a dainty yet sturdy appearance. The pave seems ot extend to the edges and you dont see much metal between.
Finally, the
Elena
has a tightly spaced pave which extends near the edges and has a smooth rolled look at the edges. Also has a little more detail work in the prongs. It also has the most tctw in pave yet remains the thinnest band of the bunch while not being an eternity. Probably due to the tight spacing and the extra diamonds in the head.
Im concerned about the fifth ave now because of the width...2.6mm wide for a stone that is 5.94x5.76 might make the stone look smaller visually, no?
Thanks in advance for any comments. The only other setting Ive been eyeing is the Simon G thin pave but not sure if that pave is going to have any life being that small...maybe some people with experience can comment. Thanks !!
Vatche Fifth Ave 2.6mm width
http://www.goodoldgold.com/images/settings/Vatche%20Files%20w%203%20view%20large%20file/1003%20FIFTH%20AVENUE/1003%20fifth%20ave%203%20view%20large.jpg
Vatche Corsica 1.9mm width
http://www.exceldiamonds.com/-Engagement-Rings-5/Diamond-Accent-Engagement-Rings-12/Vatche-Victoria-Cushion-Diamond-Engagement-Ring-1005-2094.html
Whiteflash Harmony 2.3mm width
http://www.whiteflash.com/engagement-rings/diamond-settings/harmony-diamond-engagement-ring-878.htm
Whiteflash Elena 2.0mm width
http://www.whiteflash.com/engagement-rings/diamond-settings/elena-diamond-engagement-ring-1364.htm
Simon G thin Pave (width?)
http://www.since1910.com/engagement/simon-g/simon-g-solitaire-pave-diamond-engagement-ring-pr108-ps2822.aspx#