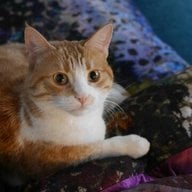 Joined

Oct 18, 2015
Messages

413
Hi all, I need some unbiased advice about a stray cat. Long story short: what is more important for the cat, freedom or affection?


Long story:

I have friends who live in a neighborhood with a deaf stray cat. Several families feed it, occasionally pet him, but for 7 plus years he has been living outside.


This summer we moved in to take care of the house (and to escape the heat of our apartment) while my friends were away. He was dangerously skinny, wobbly, and just sick looking.

I had a charity take him in. I suspected he may have a chip (he didn't), and he loiked like he needed a lot of vet care. He was dewormed, vaccinated and had blood tests. When I called and asked if I could see him, the charity said he wasn't deaf, was healthy, and that he should be released back on the streets. I obliged and took him back to his neighborhood.

He has gained weight and looks better after 6 weeks of me constantly encouraging him to feed (he tends to continue eating if I pet him). The problem is that the neighbors (my friends included) who feed him all have dogs, and the cat obviously doesn't venture to their gardens often if they are around.

I strongly feel he should be inside as he is a very tiny cat who doesn't seem to be able to hunt effectively for his food. He is nearly 10 years old, DEFINITELY deaf, and is very affectionate, despite being skittish and wary. There are also a few foxes in the area.

The charity said he seemed too feral to rehome and unhappy being caged. But with me, he will sit for up to an hour getting scritches. He has never hissed, scratched, or bitten, even when I caught him and kept him in a crate overnight waiting for the charity. At the shelter he just crawled into my lap, dug his nose into my chest, and shook like a leaf. He is a craintif but gentle kitty. He did soil himself when crated, and when being taken back from the shelter. Anyone who took him in would have had a long adjustment period.

I had initially wanted to take him in but we have two rather 'catty' cats who are also literally twice his size. Seeing as he was assessed to be better off outside, I am reluctant to lock him into a small appartement with other cats. I am not sure I will be able to find a reliable person who would be willing to try to adapt him to indoor living. Being deaf, he cannot be rehomed somewhere else with outdoor access, as venturing outside somewhere new is too risky, and no one in the current neighborhood can/will take full responsibility for him.

I do not want to be the person who ignores the experts and claims to 'know better'. But my gut tells me he would be a very happy lap cat after a rough first few months.

Sorry for the ill composed ramble.

My question: should I take him in to prolong his life, giving him the affection which he obviously wants, at the expense of his freedom, solitude, and outside access? What would you do?

Thank you all for taking the time to read all this.