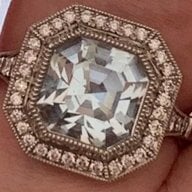 Joined

Nov 16, 2015
Messages

949
I would like to hear some opinions on different platinum alloys. What I am looking for is a ring that is hard wearing and will show the least amount of scratches. I am not a jeweler but I have been working with one in Sweden. I understand that there is a Vickers hardness rating to the different alloy combinations but I don't really know what these means as a consumer. I am in the US, and most of the platinum rings I have had made are PT950 w/ 5% ruthenium. I have also had some rings made in China that I am told are PT950 and palladium. These rings did not have pave and I noticed that they scratch very easily over a short period of time. The jeweler in Sweden says Iridium is a banned alloy there and suggest cobalt for making my ring. It will be a 3 stone ring with hand engraving over the outside and inside of the shank and no pave.

I don't really know a lot about this and I was wondering if anyone had opinions on cobalt as an alloy. I have read through the pricescope info and a couple threads but they were quite old. I would love to see some rings with the PT950 & cobalt alloy combination. I hear they can be more grey then PT950 and ruthenium.

Any guidance would be appreciated!