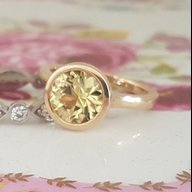 Joined

Nov 22, 2010
Messages

60
Hi, I've just ordered a platinum OEC ring from Mona and started looking a little into platinum alloys as I've never had a platinum ring myself. I always wear 18k yellow due to nickel allergies.
On my search I read about the available alloys and came across a Platinum Palladium alloy that is very, very soft. I saw it linked to a chinese manufacturer and now I'm a little worried.
I asked Mona about the alloy but she didn't know (like me before today) that Platinum needs to be alloyed to give it hardness.
My question to anyone with a platinum ring from any of the chinese vendors, as I understand the government supplies the metals, is the following

1. Did your rep give you any info on alloy used?
2. How has it held up?

Thank you! Any and all thoughts appreciated. I'm now debating whether I should just dump the idea of a white metal and go for my 18k yellow....

I just soooooo wanted something different!

Thanks!