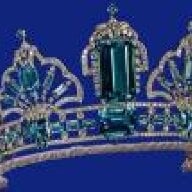 Joined

Jun 5, 2010
Messages

706
Hi everyone!

I have been wanting a solid plain bangle for a while. Last month when the platinum price started to drop, I decided it's about time to get one. I firstly contacted Larry Van Craeynest. He was interested in doing it, but our communication didn't go very well. He seemed to prefer phone calls over emails. Most of my emails didn't get replied to, and sometimes I got phone calls from him unexpectedly, to discuss the details of the project. Our communication style is so different that I decided I should go with another jeweler.
Then I contacted Victor. I heard many wonderful things about him and his work. It turned out so true! He replied to most of my emails within an hour. For someone who doesn't have a lot of patience to wait, i.e., me, this is great.
Victor was extremely patient with me. After being presented with all the possible bangle design options, I got very excited, but also felt a bit overwhelmed because this is my first bangle and I had no idea what would look good on me. When I hem and haw and tried to make up my mind, Victor let me take my time and never asked when I would be ready. I felt absolutely no pressure from him. It took me 2 weeks to decide on all the details. However, it took Victor only 1 week to complete the bangle! I sent him the payment last Friday and I got the bangle this Friday. How fast was that!

The bangle has a nice oval shape and has some clearance for my wrist. Victor created a unique lock for me, on the inside of the bangle. Once it's on, the wrist will not allow the safety to come off. Victor assured me this is the most secure safety. I love how the lock is almost invisible but also very secure.
Now let's see the two glamour shots from Victor. I took two handshots with my cell phone; please excuse the quality.