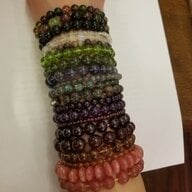 Joined

Jul 2, 2020
Messages

105
Hi! Its me "conned" Alex buyer. haha
I'm hoping to have some more information on photographing an Alexandrite.
I am looking to purchase and Alexandrite. And have read many msgs on this forum! Thank you everyone for posting. As online its hard to find out information on this stone, other than the typical myth of "Emerald by Day and Ruby by Night", and a brief story about how it was found in Russian, and likely all the original mined Russian stones are depleted.
I have found most come from India, Tanzania, Brazil now.
I'm wondering if anyone can shed light on how to see based on photos only what some tell tale signs of a fake or real stone would be?
Some comments in different post have mentioned its a hard stone to photograph.
1)
@LD
(hope you dont mind that I've pulled you in), that the reddish tones of the ring in incandescent lighting, should be easy to capture (as per your lovely video- very envious of your ring!).
2) Should the green be easy to capture? or will they look more grey/purpleish/brown? compared to the real stone?
3) The photos and video's of the stones- that are taken on a turn table style with a white background, are these generally close to representation?
4) Does cell phone cameras capture the colour better/worst than professional ones?
5) I know lab report/appraisal photos can be photoshopped, but generally if reputable are closer to the look of the actual stone, is this the best comparison to real life of the stone?
6) Which certificates are best to look out for? GIA seems to deem any colour changing chrysoberyls "alexandrites" based on the reports I've seen online, even if they are yellow-green change to brownish red
Any thoughts? Hoping to navigate the world of Alex's online, and be successful with a purchase.