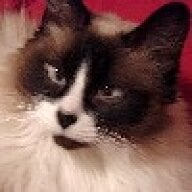 Joined

Feb 28, 2007
Messages

2,146
Once upon a time, my grandmother(mother's mother) decided to take diamonds from several "family" rings and create a cocktail ring for herself. Though my grandmother loved the final result, the setting is ugly & my mother hates it. My mother inherrited the setting when my grandmother died a few years ago and now she is ready to do something with it. The center stone is from her grandmother's original engagement ring and holds sentimental value. She wanted to give it to me, but for some reason, I just did not feel "right" about accepting this diamond so soon, especially since she adored her grandmother so much. I told her she should create a pendant to keep a piece of her grandmother close to her heart. I even added that if she ever got tired of wearing it, I would definitely be a taker, which seemed to seal the deal!
Today, I introduced my mom to the WhiteFlash site and showed her what they can do (she is very impressed). She was partial to the bezel settings until I showed her the Bellerina setting (
http://www.whiteflash.com/Fine-jewelry/Pendants/The--Bellerina---SETTING-ONLY_1114.htm
#), which she fell in love with! I am so happy she likes this one, because I like it too. Originally, I tried to sway her to the halo pendant, because the stone is vintage, but she wanted something more "dainty" and is now leaning toward the Bellerina.
I am not completely sure about the stone's statistics, as I have not gotten the chance to view the appraisal. I compared the stone to my mom's engagement ring center stone and it does look warm, but I do not know what the color is on her engagement ring stone is anyway (I asked, she said she would have to check on the appraisal). I do know that my great grandmother's stone is around .63-.75 carats, so I think that the Bellerina would be a nice setting for it. My concern is how a warmer stone will look in a white gold or even platinum setting. I am sure WF can make it in yellow gold? Any opinions? I should probably persuade my mother to take a look at the appraisal, so we know exactly how warm this stone is.
Also, I was looking for some advice/tips as to how to ship the stone to WF to ensure it arrives safely...So advice from people who have set their stones to WF to be set in new settings would be wonderful. Also, should my mother have her local jewler remove the stone from its original setting to have it shipped, or should she ship the entire ring as is? The ring is insured, so I am wondering if removing the center stone and shipping would void the insurance...
Thanks!