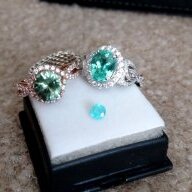 Joined

Dec 30, 2016
Messages

88
I'm in the process of researching a 40th birthday present for myself. I bought myself a tennis bracelet for 30, and figure every decade I can up the ante.

At first I was really drawn towards an Asscher cut stone, but am now second guessing myself. Here is where I'm at. For a pendant, I am willing to sacrifice on color and clarity for size and cut. Definitely want the best cut possible and maximize the size. I'm thinking J color SI1 is the lowest I'd be willing to go, but the SI1 would have to be eye clean from carbon specs. Definitely want between 1-1.5 carats and the budget is between $4k-$5k.

The reason I've been moving from the Asscher is that I'm worried that an SI1 in that cut would be more likely to show visible inclusions and wouldn't mask the color/clarity sacrifice like a more faceted stone. Also, I wear round brilliant studs every day, and my 'divorce' ring (which I wear almost every day on my left middle finger) is a round brilliant, but is set art deco and almost appears princess cut.

Because of my other daily wearers...I'm now thinking a cushion or radiant would match my current jewelry better than an asscher and may hide more flaws.

I'd love any thoughts/feedback! I do like old stones as well, but am hesitant to buy on ebay or other second hand websites like that.