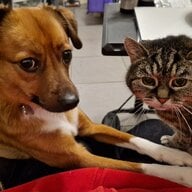 Joined

Jul 7, 2013
Messages

11,284
The number of vendors offering quality pearls could be counted on one hand at Tucson 2023.
The first public show I attended was JOGS, and there was a Tahitian pearl vendor at the show.
I spent ages going through their bags of loose pearls and managed to find this pair of drop-shaped pearls that I like.
I am very fussy about the shape and the need to be a good match, and was pleased with these.
There is a notable difference in colour when they are side by side, however, the difference in colour and surface imperfections etc. are acceptable when they are worn as earrings.
I believe they are about 10.5mm at the widest point.
I requested for them to be full drilled so that I could wire-wrap them myself, to find them to be half drilled when I finally received them today. So off they go back to the vendor for full drilling at my own expense, as I would rather conserve my energy for other issues in life.
Photos are the new pearls and the interchangeable drops I have for my tiny diamond huggies so far, please excuse the dry hand.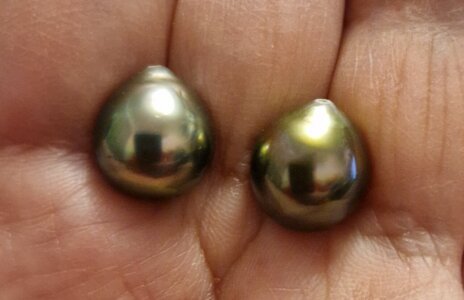 How they look against my other interchangeable drops to date.
LHS: the smaller pearls (pink, white and lavender CFWP, however, the round ones could be Akoyas - they came from a mix bag of off cuts from PP many years ago) and my disco diamond drops.
RHS, the mix-match pair from Takahashi with the tiny huggies, a pair of white Eddison drops, the new pearls from Tucson, a pair of low grade Tahitians from an Etsy seller, and a 10mm semi round ones from an eBay seller that I had for years.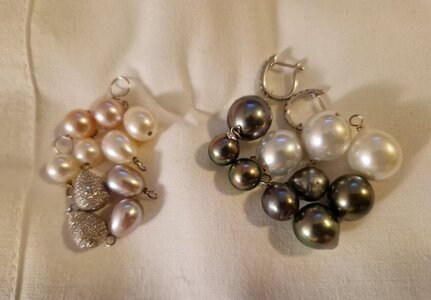 The new pearls are bigger and nicer than the two existing Tahitian drops that I have. However, they are not as nice as the Tahitian drop I got from Takahashi as part of the mis-match pair. As they were only about a third of the price of the mis-match pair, I can't complain!
DK