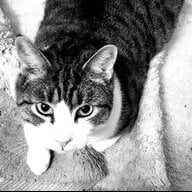 Joined

Nov 4, 2018
Messages

168
What a keen eye you have! I knew that eventually a rose cut nut would spy this little pretty!

It's a five stone, really chunky and small, I know absolutely nothing else about it lol. I was chatting with my goldsmith about how I was obsessing over rose cuts and would love to see one in person. A few weeks later he sent me a message- he got one in, preloved, would I be possibly interested? Well heck yes I was!!! I pretty much told him I wished I could rush right over and have a look, but he assured me he would hold it for me until I had a chance to snap it up (or not).

Well, the second I saw it I bought it without hesitation. Not a rose cut lover himself, he sold it to me for a song and now it is *mine*, alllllll mine!!!

It has great detail on the side but it's hard for me to capture it with my phone. Perhaps I'll try to get a good photo soon. I like to wear it paired with the wide gold band.

Now, the wide gold band: YEARS, no, DECADES ago my dad was working in some kind of gravel pit situation. Maybe road construction? Sewage? Drainage? Something like that. Anyways, amongst all the yummy rubble he finds this ring! He figures a relationship went sour and someone tossed it down the drain, or it slipped off their finger, or who the heck knows but it was going to be next to impossible to find the original owner. Fast-forward quite a few years, and he ends up having a daughter who is obsessed with jewellery. He says, "Oh, do you want this?" Uhhh YES, PLEASE!

It is probably the most valuable piece of jewellery I will ever be given by them! My parents are so down to earth, they would never buy such a thing for themselves or for others. Just makes this piece even more special
A rose cut ring is what started me down the bling rabbit hole. I now have two!

They're both modern, but I would love to have an antique rose cut someday.
And I'm so glad you included the story of the gold band. I inherited one from my MIL who recently passed, and it's thick, and heavy, and has seen some life, and I am absolutely in love.