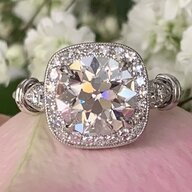 Joined

Jan 11, 2006
Messages

55,817
I have been revisiting this thread and thinking about my collection.

I had a revelation!

Try asking yourself the following: If I lost all my jewellery in some unthinkable event and was given a lump sum insurance payout to replace it all, what would I buy the second time around?

Would I buy as many pieces? Would I replace them all like for like, or would I have different goals if starting from scratch? If starting with a blank sheet, you are free to plan your collection carefully to ensure maximum wearability and love for each piece.

When I thought about this it was very clear to me which are the key pieces I wouldnt want to be without, and which are lovely to own but not really getting a lot of wear. It inspired me to consider listing a few pieces that I wouldnt otherwise have considered letting go. However, like you, Pearaffair, I have some items which I would never part with for sentimental reasons, even if they don't get a lot of wear.
I honestly have thought of this, although don't insure all my jewelry, so it's very imaginary! Like you and Pearaffair, I have sentimental pieces given by my family when I was very young that I'd never part with, but I really don't wear it. All of that is mainly yg and I have it in a separate small zipper jewelry case. I want a medium size jewelry box to hold the pieces I love and actually wear (I have one now but the handle broke so I need a new one). I really have never collected costume jewelry. I have daughters and two little grandaughters to give special pieces over time! I have a few pieces I need to sell. It's just making myself do it!
Bottom line, though, if all my jewelry disappeared, I'd want diamond studs, an e-ring and wedding band OR just a 5 stone diamond band, a small diamond cross pendant, pearl studs, and a few VCA pieces. I could really not replace most of it!
Pearaffair, you are very wise to save for important pieces and not spend on little things that aren't really going to stand the test of time! I try to aim for one or two things a year, and that works out well for me! I love the story behind your diamond band! It's so nice to connect pieces to special occasions, too! You definitely need a new piece in honor of your baby boy!