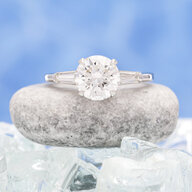 Joined

Jun 15, 2015
Messages

2,508
Well guys, I've been on a bling ban. And I've lasted... 5 months, 2 weeks, and 4 days! Woot woot! Nearly half a year!
Now, a normal person might be giving me the side eye right about now. But a PSer, I believe, will know what a journey this has been for me. I've been buying ZERO JEWELLERY. None. Nada. Not even as gifts! Not even if it's under $100! Not even costume jewellery!
I'm not gonna lie- it has been HARD for me! I used to buy a piece or two a month. Granted, the overall spend was not insane. But the volume was getting excessive. And I was realizing that "you can never buy enough of something you don't need" lol. I set out in 2020 to focus on what I have instead of what I don't have. I also want to be able to make more considered purchases, instead of letting impulse buys and good deals constantly deplete my bling fund.
Now, I have to admit- I've given myself two teeny tiny exceptions for this year of bling ban: I'm allowed to repair, resize, or reset things I already own. Giving my goldsmith money to rework or repurpose or newly appreciate that which I already own, is A-ok. And the second exception: I'm allowed to buy one piece of epic bling to celebrate the birth of my son this fall. (And the bling fund is feeling healthier than normal due to my abstinence of spending for nearly half a year! Woohoo!)
I've been reading threads that have popped up lately about jewellery addiction etc. Myself, I truly had some impulse control and no sooner had I purchased something, I'd be on the look for the next lovely thing. My wish list was ever-growing.
I am still working on improving and now, my wish list is getting SMALLER and I am learning how to refine my desires and curate my collection more carefully. I've been inspired by those of you on here that have a very thoughtfully-done collection. You seem to really know your tastes (no matter how long it took!) and everything suits you and your life. There are no freeloading rejects in your jewellery box. Bravo! I'm working on getting there myself.
Ok, so I'm rambling. But it's been 170 days of no-bling-buying... I've had a lot of time to think. And I've made a list of mantras, points-to-ponder, and questions to ask myself when I am desperately coveting some beautiful little trinket. I will share them here, maybe they will help you too!
-Things are easier to buy than to sell!!!
-HALT Acronym - hungry? angry? lonely? tired?
[Do not buy when you are actually just feeling one of those things.]
-The fallacy of "I'll be happy if I just lose 10lbs" is the same falsity as, "If I just buy the perfect ring... then my collection will be complete / I'll be done / I'll be the most glamorous lady in the land..."
**ONLY BUY JEWELLERY YOU WILL WEAR EVERY DAY**
[This is a reminder for me to not be a hoarder of beautiful things. I appreciate them more when I wear them.]
-Ask: Does it fit your lifestyle??
[I can't tell you how many times I've ignored this in the past!]
-You can't buy jewelry as a way of coping with life. You have to just sit with life. [SEE: H.A.L.T.]
-YOU CAN NEVER BUY ENOUGH OF WHAT YOU DON'T NEED.
-I CAN LOVE SOMETHING WITHOUT BUYING IT.
-DON'T BUY THINGS TO COLLECT; BUY TO ENJOY (you can't buy it to add to the museum).
-CURATING A GREAT COLLECTION IS MORE ABOUT WHAT YOU LET GO OF, MORE THAN WHAT YOU ACQUIRE. [credit to
@mrs-b
for this one]
-MORE LEADS TO MORE, AND LESS LEADS TO LESS.
-Get rid of anything in your life that no longer serves your best interest.
-My kid doesn't need to inherit a great bounty. It's more meaningful if she inherits a few things I truly treasured. Or instead of things- values, memories, love.
-How easily would you spend $5k elsewhere?? [This is a reminder to me that my frugal brain turns completely off when looking at jewellery. I would never spend more than a few hundred on a purse or a coat - I'm more likely to spend $20... yet I'll drop thousands on bling? Wtf!]
-If I stop working on the outside, I will have to start working on the inside. [A reminder to me that this bling hobby is fun but maybe I could devote some of those shopping hours to learning a new language, or doing strength-training, or etc...]
Ok. I hope it wasn't a trick to post those thoughts in a SMTB thread. Truly this thread is going to end up with a lot of photos! I am going to use this spot to show photos of the bling I'm keeping, the special ones that I need to appreciate and enjoy. I've got about six more months of this journey and focusing on what I have, so stay tuned to this thread for photo updates in the half year to come
And thanks, as always PSers, for your support and knowledge! You are a treasure trove of inspiration <3
Last edited: