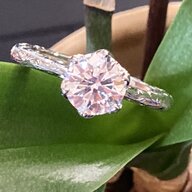 Joined

Sep 19, 2018
Messages

182
Hello PS-res!
I have purchased my first custom cut lab sapphire from Stag & Finch. It will be set into a molume gane bezel ring, in a "fire" color palette, with red & yellow gold, and oxidized sterling silver. I think it's going to look wicked cool.
I got the sapphire today. It's cut in the storm light pattern. It looks good to my eyes, but when I zoom in for pictures, there's a weird circular smudge. Is this my camera, lack of photo skills/ good light, or do you think something is off with the stone?
My pictures, and screenshots of the metal color palette it's going into.
Thanks in advance for your response!