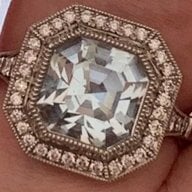 Joined

Nov 16, 2015
Messages

1,023
Hi everyone -
I was asked to pass this along since we are ordering a lot from China over here. There have been a couple of PP cases that people have not be won lately. I think it is important to reiterate some of the risks associated with ordering custom jewelry through some of the Chinese companies and maybe even some of the purchases made through the preloved websites. It looks like jewelry is excluded from buyer protection unless the company or vendor is pre-authorized by PP. This is news to many of us and PP is not offering the same level of protection as if you were to purchase through ebay.
As of right now, the only company I know that is actually selling anything through ebay is Starsgem. I know that Tianyu has a shop through etsy but I am not sure if any purchases can be handed that way. Having the transaction go through ebay means you will have a much higher level of Buyer Protection with ebay's policy but it obviously adds to the cost of the purchase. I guess it is up to the individual person on if they want to take the risk.
Here is the link I was asked to share from reddit. The gemstone guys usually purchase through paypal for international transactions but the same rules would in fact apply to any custom jewelry design transaction. I just wanted to make people aware.
https://www.reddit.com/r/Shinypreciousgems/comments/djy6or