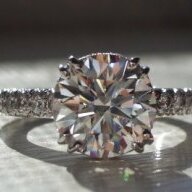 Joined

Sep 27, 2003
Messages

281
EDITED: YIPES!! Why can't you edit topic title???what a moron..sorry alll!!!!
Hi there,
I would like your opinions on combining a pave band with a nonpave band.
My weddding band is a shared prong 8 diamond band (7 pointers each). I am getting a ring made by leon Mege for my 2 carat round and can't decide on plain shank vs. pave ( I LOVE PAVE!!)
The prongs will be like SLH's, double 4 claw prongs but the shank will look similar to the michael b pave
http://www.pearlmansjewelers.com/Product.asp?DesignerID=18&ItemTypeID=1&ItemID=325&start=6
Leon calls this fishtail pave. Anyway, I love the this but afraid that together with my wedding band it won't look right together!
I can't seem to find any pics of this combo. Help me with the decision...Would like to hear your thoughts..thanks all!!