Joined

Sep 27, 2019
Messages

6
Hi everyone,
I'm pretty new to the forum since I just started looking into engagement rings.
I wanted to share my recent experience with Parks fine group inc.
I've seen a few threads about this vendor, praising him for patience, quality and price.
I did also see some negative reviews around customer service though that didn't really put me off because it could be due to a multitude of reasons.
I probably jumped the gun and messaged him when I didn't know what I wanted exactly. He sent me a diamond to consider (very quickly with decent photos) which is to his credit.
Wanting to make sure he wasn't wasting his time while I wasn't exactly sure what I was looking for, I told him that I will get back to him once I have more information.
Here's the exchange, after which he blocked me! (Please excuse the typos)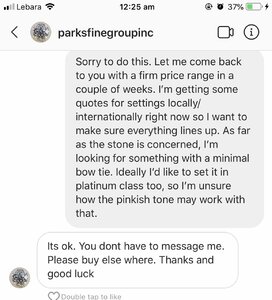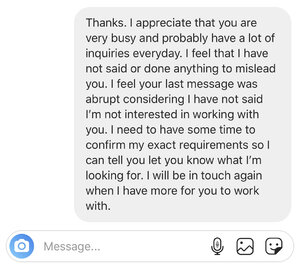 I can't attest to the quality of his diamonds or anything else since my period of interaction with him was very short (24 hours..maybe)
I'm pretty certain after sharing this, he won't want to work with me in any circumstance. Though I'm confident that I've been appropriate in my communication, but it's unfortunate that he's obviously taken offence to it.
There is not too much on this vendor here or elsewhere, but I wanted to document this for other people considering working with him.
I'm interested to see what the community's opinions are on this!
Thanks,