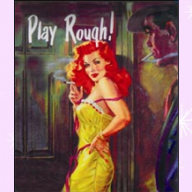 Joined

Mar 24, 2007
Messages

71
Hello all! I haven''t posted here for awhile now...but used to be a frequent visitor leading up to my engagement and shortly thereafter.
So it was about 2 years ago now that we bought a lovely .74 round cut D VS2 with great specs from
Good Old Gold
and set it in a Mark Schneider engagement ring (I have other specs etc. at home, but perhaps my previous posts are still around and have more info?).
Yesterday I looked at my diamond and
could see with my naked eye what looks like a long thin crack
(looking from the side, not from the top). Whatever it is is definitely catching the light and it extends from prong to prong (4 prong setting). I''ve tried cleaning it and taking a closer look with my 14x loupe. The surface of the diamond appears totally normal and fine all around and on every surface. There still looks like there is this long crack somewhere inside the diamond though. This could not have been there before - I would have noticed it - and I doubt it would score VS2 if it has been there all along.
I haven''t knocked my diamond, to my knowledge, and in fact I hardly ever wear it. Can anyone offer some insight as to what this might be? Is it possible that something is caught underneath it in the setting and just catching the light to look like a flaw? Is it possible that a small flaw that was there from day 1 has suddenly grown on its own into a bigger one?
I will try to post a picture later but if anyone has anything to say in the meantime or any suggestions to offer I would so appreciate it.