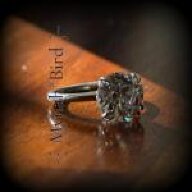 Joined

Dec 30, 2010
Messages

61
I am in absolute LOVE LOVE LOVE with your eternity!!
I read your thread abou your
ID Jewelry
experience and I am seriously contemplating going through them for my push-upgrade!
I want to upgrade my current eternity to be a stand-alone band, and I can't decide whether to just pull the trigger and go 50pt stones, or go for the 30pt'ers? I'm a size 5 btw....
I remember someone posting about going to ID to try their bands on, did you get a chance to or did you do all of the correspondance via email? I want to be able to have my check list of things covered so I am not doing my usual "email 5000 times because i forgot to ask/say *fill in the blank*" I am under the impression that I'm going to need the lowest seting style possible to make the band wearable? It will NOT be an everyday/all the time ring, just a special occasion/going out/sick at home and want to bling out my day type ring.
No one in our area carries eternity bands in stock that large that I have found yet, I haven't been in to Tiff & Co yet however so I may need to take a trip this weekend!
Any advice, insight or drooooooolworthy pics would be fantabulous!
Anyone else who has some opinion or advice about larger ct weight eternities is always welcome to chime in as well!
Thanks!