I'm so excited! I've always loved pads, and now I'm getting one for my e-ring. I know the stone I chose isn't the most desireable color for pads, but I was looking specifically for a paler shade, closer to morganite than the hot, saturated orange pinks I typically see. It's the larger one on the bottom: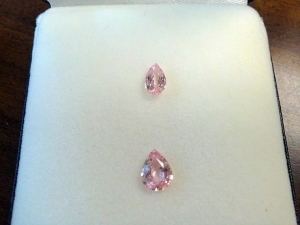 What do you all think? I'm no gem expert, so it looks good to me. Anything you think I should watch out for? I see a bit of a window, but I'm hoping it'll close up once I put it in a setting. I'm consider a setting from ebay, like this one from leejewelry, but with rose gold prongs:
http://www.ebay.com/itm/pear-6x8mm-14K-Multi-Tone-Gold-DIAMOND-SEMI-MOUNT-RING-/180728486544?pt=Diamond_Solitaire_with_Accents&hash=item2a1441da90#ht_5237wt_905
It's certified unheated and untreated from Sri Lanka, about 1.4 carats and just a tad bigger than 6x8mm.
My original inspiration came from this ring on etsy:
http://www.etsy.com/listing/78011738/the-pear-alencon-lace-sparkler-morganite?ref=sc_1
I am rather suspicious, though, that the settings are SO similar, yet there is such a difference in price. I suspect the etsy seller just buys his settings from leejewelry, throws a stone in it, and marks it up 500%!