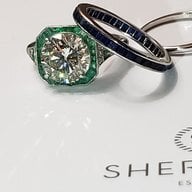 Joined

Mar 7, 2016
Messages

754
This has been on my mind and I noticed a good number of gemstone vendors only sell to designers so this must come up. What are your thoughts on package deals?

I saw a gorgeous stone on IG and inquired about it but it was sold. The vendor did say they would have a consumer based web page coming soon. A bit later they reached out and offered to connect me to the designer who purchased the stone. I figured why not. She was lovely and very accommodating, she told me she had a design in mind to set it and I would have first dibs.
But, two issues.
One , I had never seen the stone in person and had no idea if I would love the color or not. Once set it wouldn't be impossible to return it.
Two, her aesthetic is lovely but it doesn't quite mesh with my collection.

That and I had no idea what the cost of the stone was, only the whole ring so it is hard to gauge the value.

Have you ever bought an entire ring because you liked the stone? Or thought you'd like it?

I'm torn because I'm a people pleaser and she has been so lovely and offered me a discount on the price so I feel guilty. On the other hand I am not sure I love the stone enough to go in blind. And I have other projects that would have to wait if I spent on this.