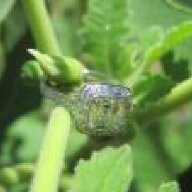 Joined

Oct 24, 2010
Messages

49
My very first post here... I had been using this site and others to do detective work on my engagement ring before purchasing and surprisingly could not find a lot of info out there...
So I guess you can say I came out of lurkdom to share for educational purposes. Any questions about the buying experience or whatever, let me know. Oh, and there's no need for T&Co controversy, please. Was my ring overpriced in terms of what you get in platinum weight and carats? Absolutely... but it's worth every penny to me
Thanks for looking!
To start, some shady pictures on the patio table...