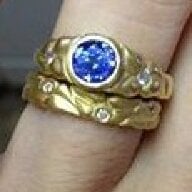 Joined

Jan 23, 2008
Messages

3,518
I finally pulled the trigger and sold my diamond bypass ring
I am not sure its hit me yet, I did wear it daily no matter what I did but towards the end I decided to put it in the box to get used to not having it around anymore. I waffled a few times but in the end-I want some color. Of course-after I paid the deposit on the ring, JM FINALLY posted a ring I like-in my budget
I've watched his site FOR YEARS and NOTHING has ever fit my size/budget (and emailing for a custom one always proved to be over the 2k budget-closer to 2500.00) and now I'm a bit sad. However-saying that I still adore the ring I have a deposit on and the long term plan is to sell my AVR and use this ring as my ER-so in reality the JM ring is more suitable for a RHR than an ER while the Carol ring is much more ER in nature.
So here is the pretty I put a deposit on-thoughts on the price (2k all in sized/shipped) and the sapphire?
http://jewelsbygrace.smugmug.com/Signed-Pieces/Signed-Pieces-Rings-and-Bands/Sapphire-Bezel-Ring-by-Cathy-A/i-r2P4chP/A
Literally the week after I put the deposit down this was posted on JM site-I seriously adore this ring and if the sapphire ring was going to be a RHR forever I think this would have fit the bill. JBG has policies in place that you only have 48 hours to change your mind to get your depost back/transfer it to a different ring from their site/inventory so it's not like JM is even an option (can't afford to loose nearly 500$ deposit) but I can't help but look....
http://jamesmeyerjewelry.com/1511-2/
So! I know this ring was on JBG site for a LONG time (over a year for sure) and there isn't much on the artist although she does have a website. I plan on making my own band at a place called the den in toronto with plans to eventually get into goldsmithing myself <3
Sapphire look good? Price/size/color right? Sometimes I think I overpaid for what it is but then again I have eyed it and watched the video quite a few times-I know I will love it in person. Should have it mid-july.