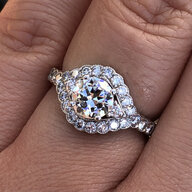 Joined

Mar 17, 2021
Messages

70
I scored a BEAUTIFUL O/P OEC from Diana at Sincityfinds! I've been stalking Alex (parksfinegroup) and Dolly (xobijoubox) but the stones either go too fast or is just out of my price range. So my heart was pounding when I saw this on Diana's stories and 20 minutes in, asked her whether it was still available (it was!)
It arrived today and I LOVE IT. It's the exact pale ivory yellow I want. It's bright, clean (VS2) with primarily just small chips on the girdle, couple of naturals and an extra facet that I can't find (but I'm by no means an expert).
Anyway... now I need to figure out how to set this as a ring. I thought I wanted it set in white gold but I put it up against my satin finish 14k yellow gold and I think it looks the best!
I want to bezel it to protect the edges. And I was thinking of maybe a multi setting this Stuller:
https://www.stuller.com/products/build/122200/?groupId=121031#/mounting-options
but now seeing the stone in person I wonder if I'm better off with a more rustic satin finish yellow gold setting. I'm obsessed with the Art Deco leaf motif sides so was considering something like this but in satin yellow gold finish?
https://erstwhilejewelry.com/produc...t-ring?utm_source=pinterest&utm_medium=social
I'm so torn! I've spent so much time looking at settings. Also my options are somewhat limited and I need to stick with working with a local jeweller because I'm in Canada and I don't want to deal with shipping the stone back across the border and having it come back taxed as a ring...
All your thoughts welcome!!